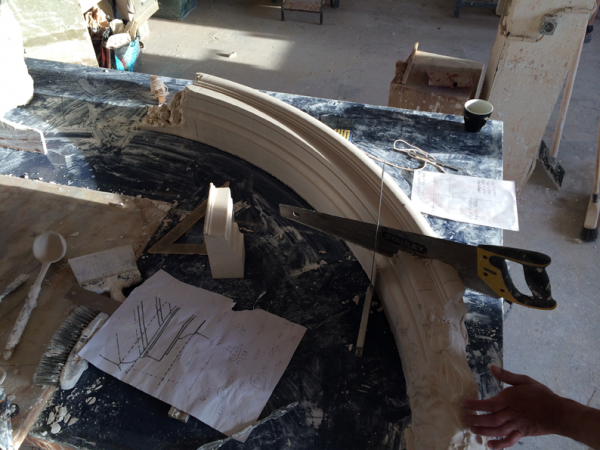 Une collection de moules, aussi riche soit-elle a ses limites, en nombre, en style, ou en dimensions. Les besoins de nos clients eux, n'en n'ont pas ! Et mettre toutes les envies en formes ne pose aucun problème. Modelé puis moulé, sculpté en taille directe en pierre ou en marbre, numérisé en 3D pour reproduire de la manière la plus fidèle, tous vos projets prennent forme entre nos mains !
While our vast collection of moulds may be limited in terms of size, style and number, our clients' dreams are limitless.  Transforming your desires into works of art is our vocation.  From modeling to moulding, sculpting directly in marble or stone, digitalizing in 3D for precise reproductions – all of your ideas take form in our hands.
Lampe constructiviste, sur un dessin du décorateur Jean-Louis Deniot : sculpture du modèle, moulage, édition en plâtre, patine, électrification.
Shown here a lamp of constructivism design by the decorator Jean-Louis Deniot, sculpted from the model, casted in plaster with a patina finish and then wired for usage.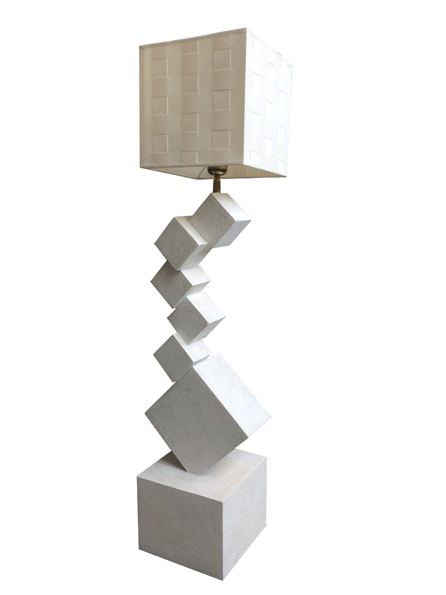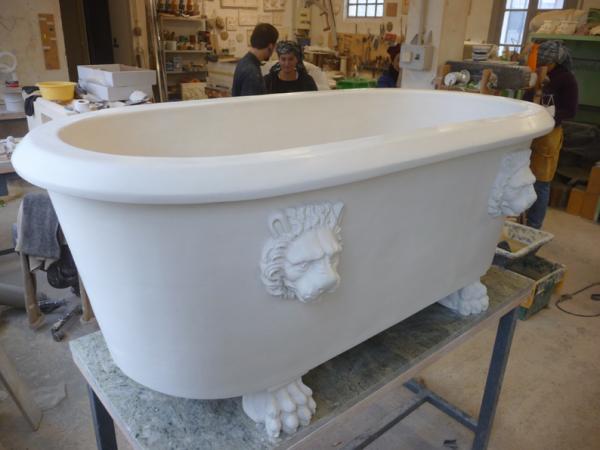 Pour répondre à une problématique de poids et un souci de style dans la décoration d'une villa sur le golfe de Sorrente, nous avons réalisé une baignoire en résine marbre sur mesure dans l'esprit des vasques thermales romaines.
To harmonize volume and style in the decoration of a villa in Sorrento, we constructed a bathtub in marble resin to resemble a Roman spa.
Pour Jean Louis Deniot et son exposition AD à Paris en 2011, un lampadaire en plâtre brossé et patiné.
This floor lamp in brushed plaster and patina finish appeared in the 2011 Architectural Digest Paris coverage of interior decorator Jean-Louis Deniot.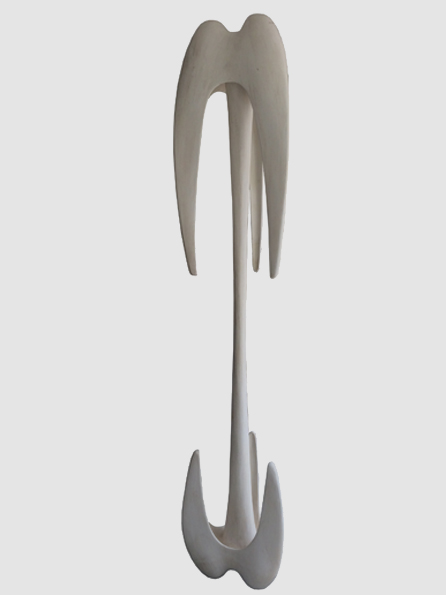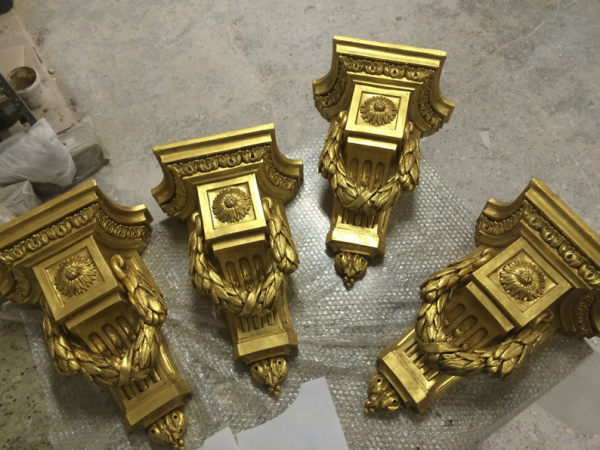 Réalisation d'appliques Louis XVI en résine dorées à la feuille.
Louis XVI appliques in resin gilded with gold-leaf.
Réalisation  d'une fontaine en bronze et marbre avec système d'éclairage led  immergé dans les vasques à débordement, dessiné par Pierre-Yves Rochon  pour une maison particulière à Saint Jean Cap Ferrat.
Construction of a multi-tier cascading bowl fountain in bronze and marble with an integrated LED lighting system, designed by Pierre-Yves Rochon for private home in Saint Jean Cap Ferrat.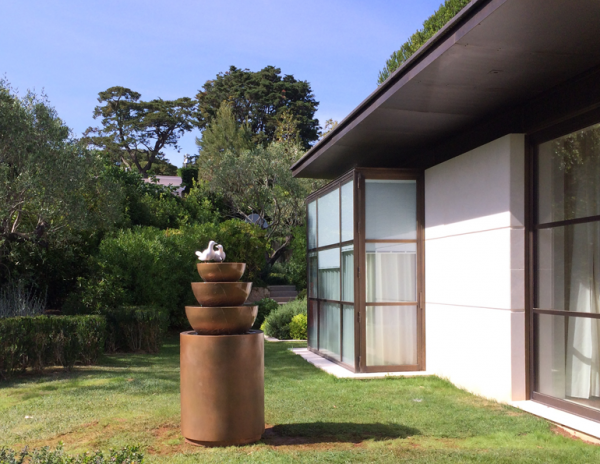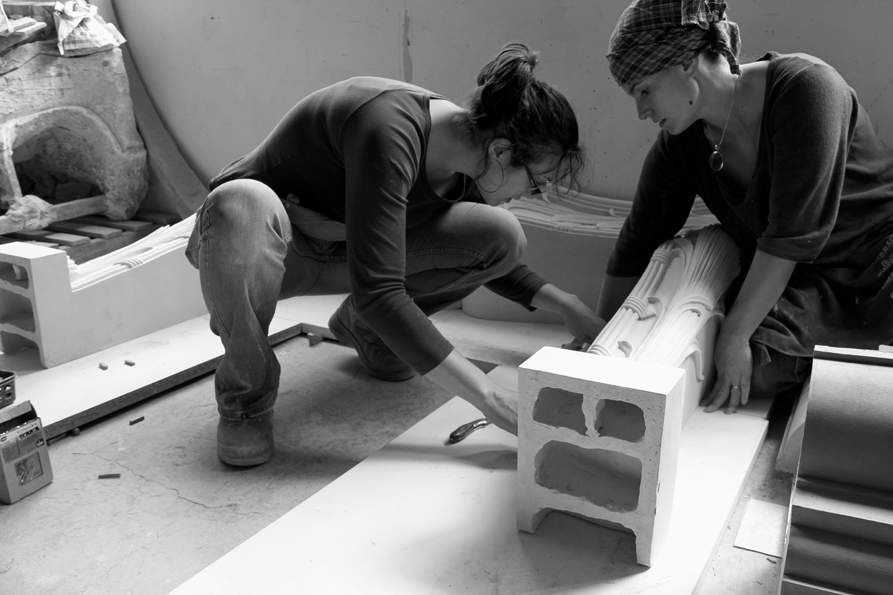 On ajuste ici les jambages d'une cheminée en faïence sur mesure. Cette opération précède l'émaillage et la cuisson de l'ensemble. Cette cheminée a été réalisée pour un projet à Pebble Beach, en Californie.
Here we are adjusting the feet of a custom-made ceramic fireplace mantel.  This step precedes the glazing and baking of the assembled piece.  The fireplace mantel was made for a private home in Pebble Beach, California.
Création, modelage et tirage en résine aluminium d'animaux destinés à contituer des fontaines pour une propiété privée dans le Michigan,  projet Barbara Wirth et Christian Badin.
Conception, modeling and casting in aluminum resin of animals, designed by Barbara Wirth and Christian Badin for fountains at a private home in Michigan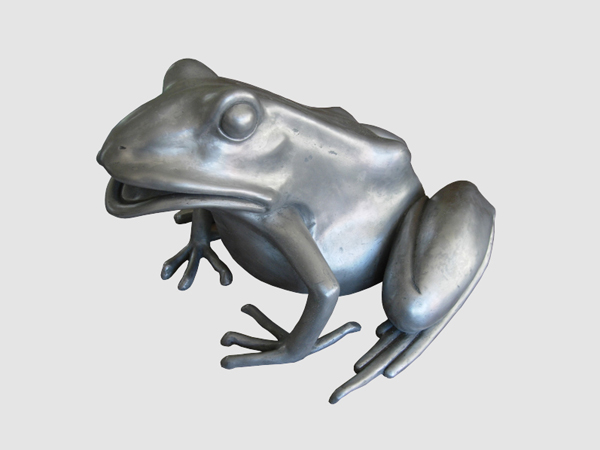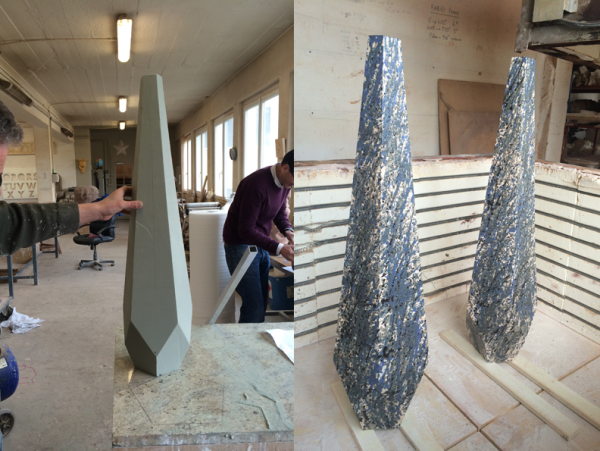 Sculpture en mousse polyuretane et défournement de deux lampes en faience émaillée pour un projet de Jean-Louis Deniot.
Sculpture in polyurethane mousse and baking of two glazed earthenware lamps for a project by Jean-Louis Deniot.
Ici, la taille directe d'un  encorbellement d'une fontaine  sur mesure  pour la villa Cora à Florence. Cette reproduction a été réalisée à partir d'une simple photo.
Shown here is a corbel bracket for a custom-made fountain designed for the Villa Cora in Florence.  This project was inspired by a simple photograph.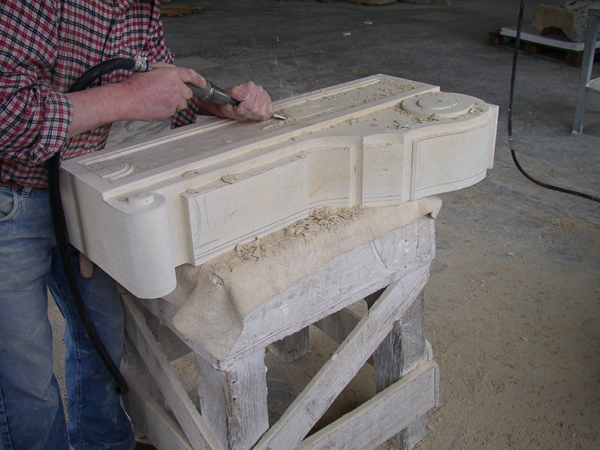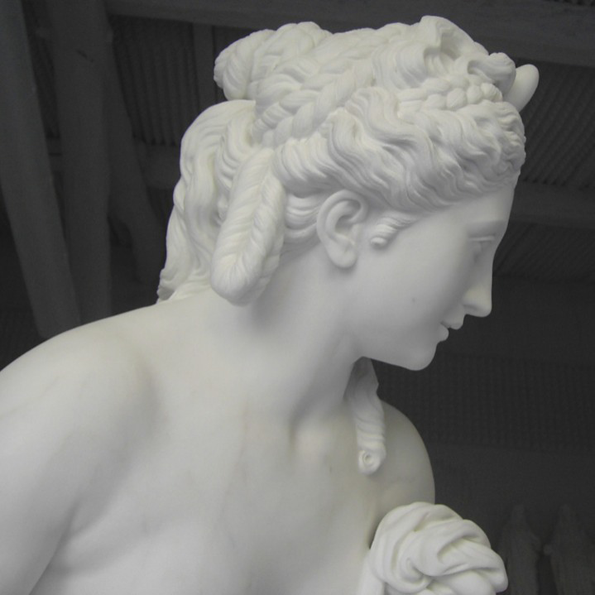 Sculpture en marbre de carrare d'après le modèle de la Diane au bain d'Allegrain  pour un projet privé en Suisse.
Sculpture in Carrara marble based on the model of Diane in her bath by Allegrain, designed for a private project in Switzerland.