Dans le plus grand respect des techniques traditionelles, nous reproduisons sur tous les formats et sur tous les types de support de faïence, qu'ils soient faits-main ou industriels, les décors des plus simples au plus ambitieux. Voici en quelques photos les différentes étapes de la fabrication de nos murs et de nos sols de faïence. 
While fully respecting traditional techniques, we reproduce ceramic decors in all dimensions and on all types of surfaces, either hand-made or industrial, both small and large scale. The following photos demonstrate the various steps of the construction of our ceramic walls and floors.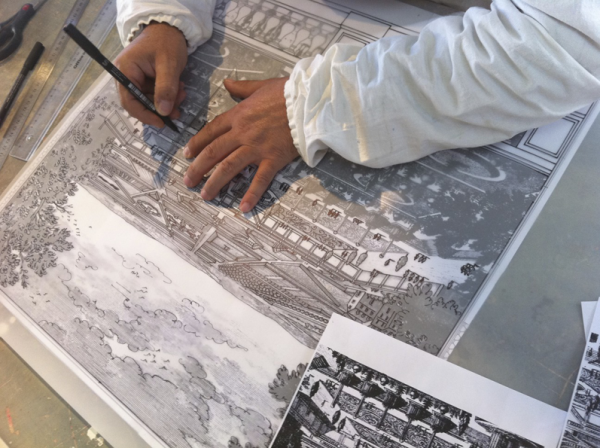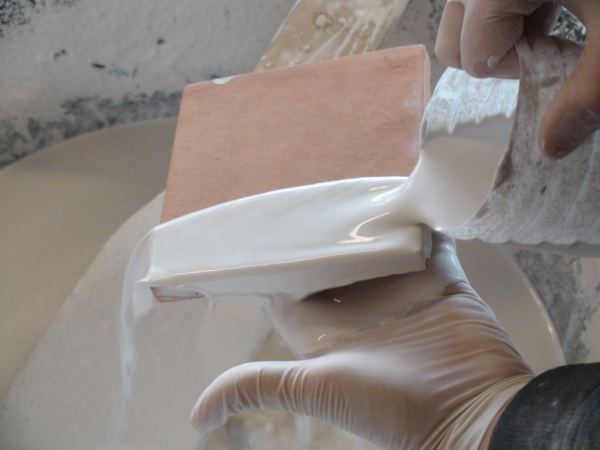 Sur un carreau qui a été préalabrement lavé, on verse de l'émail liquide. Le carreau de terre cuite qui est poreux ne va retenir qu'une fine pellicule d'émail, futur support du décor peint.
On a tile that has been pre-washed, we pour on the liquid enamel.  The terra cotta tile, which is porous, will only retain a thin film of the enamel glaze, serving as the base for subsequent painting.
Le dessin reproduit à l'échelle sur une feuille de calque va être percé de milliers de trous pour constituer le poncif, destiné à reporter le dessin sur les carreaux.
The drawing reproduced to scale on tracing paper will be pierced by thousands of holes which constitute the stenciled image to be projected onto the tiles.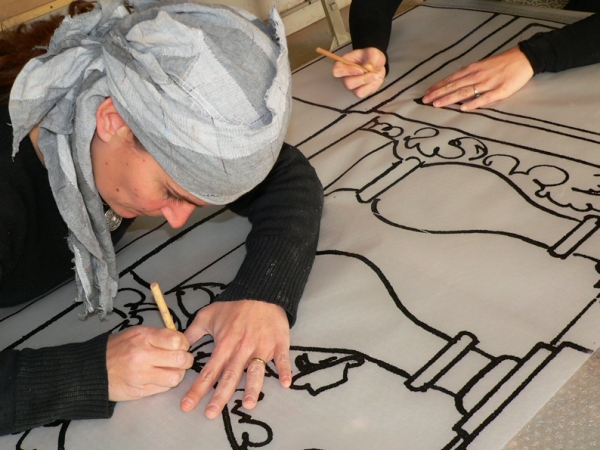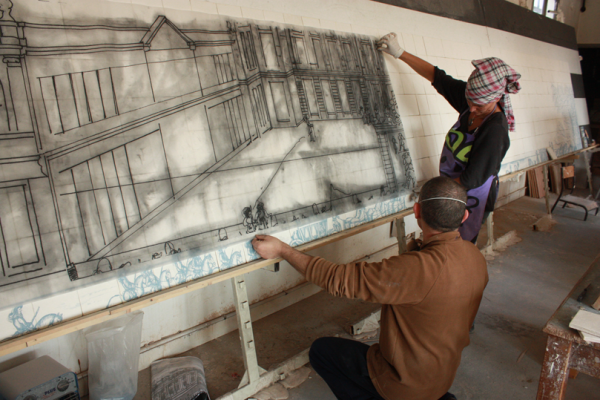 On présente ensuite le poncif sur les carreaux et, à l'aide, d'un pinceau, l'on fait pénétrer du charbon de bois réduit en fine poudre à l'intérieur des trous préalablement percés sur les traits du dessin. Grâce à ce procédé simple, l'on transfert le tracé dans une matière qui disparaîtra à la cuisson.
Next we apply the stencil to the tiles and with the help of a paintbrush, we spread a powder of pulverized charcoal which penetrates into the holes of the stencil.  This simple procedure allows us to transfer the sketch in a medium that disappears when heated.
Commence alors le travail de peinture à proprement dit. On peint le motif sur les carreaux à l'aide de divers dissolutions de cobalt selon une technique qui se rapproche du lavis ou de l'aquarelle.
At this stage the actual painting may begin.  We paint the motif on the tiles using various solutions of cobalt according to a technique similar to ink washing or watercolor.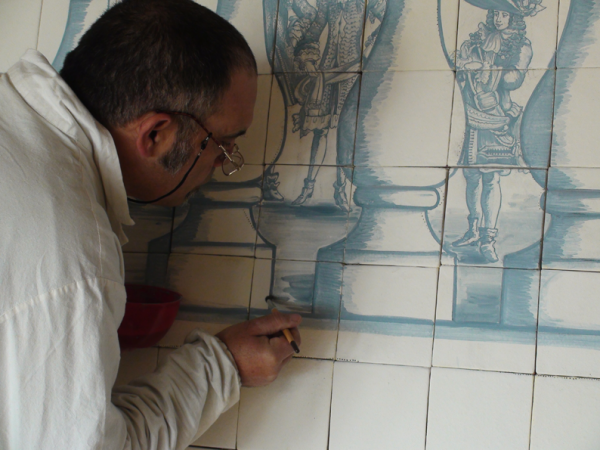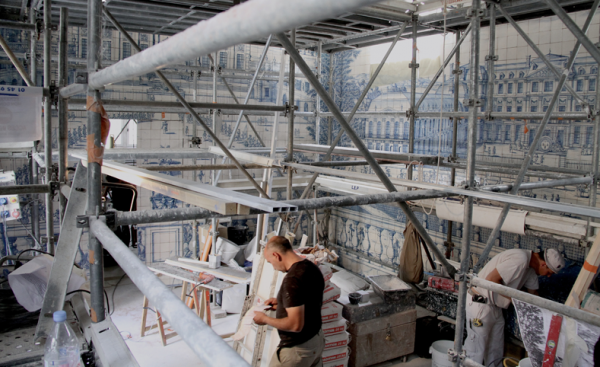 Après cuisson, les carreaux qui ont été préalablement numérotés sont collés sur leur support final, et jointoillés.
After baking, the tiles which have been numbered are glued to the final surface and grouted.
Ici, la porte sous tenture du vestibule de l'hotel Claude Passart à Paris. Juan Pablo Molyneux a voulu représenter les châteaux perdus de Paris dans une pièce monumentale. Ici, louis XIV est accueilli par les gardes Suisses au  château de Marly.
See here the hidden door of the vestibule of the Hotel Claude Passart in Paris.  Juan Pablo Molyneux wanted to represent the lost chateaux of Paris in a monumental work.  In this image, Louis XIV is received by the Swiss Gardes at the Chateau of Marly.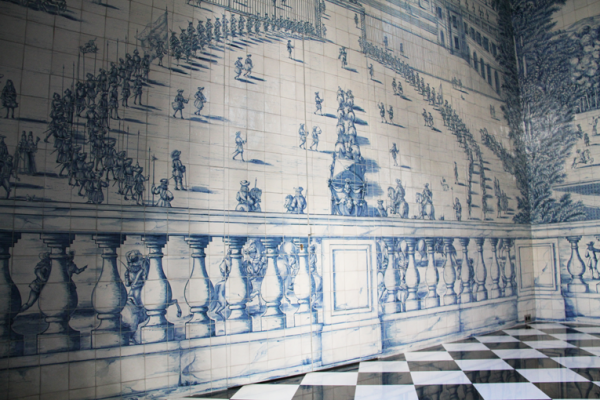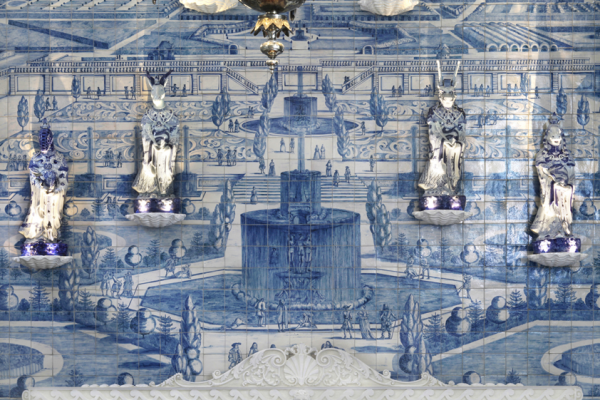 Toujours à l'hotel Claude Passart, le mur Ouest et ses jardins à la française qui accueille une collection de porcelaines chinoises  représentant les signes du zodiac. Elles sont supportées par des consoles  de faience en forme de coquillage,  également de notre fabrication.
Again in the Hotel Claude Passart, is the West Wall and its French gardens which showcase a collection of Chinese porcelain representing the signs of the zodiac.  They are supported by shell-shaped ceramic shelves, also of our own production.
Le vestibule, toujours, et l'évocation, à gauche, du château de Saint Cloud. Les différents panneaux sont unifiés par une ballustrade continue et des arbres dans chaque angle de la pièce permettent d'opérer la liaison entre les différents tableaux.
On the left of this same vestibule is the château of Saint Cloud.  The different sections are united by a continuous balustrade and trees in each corner of the room, creating a link between the various scenes.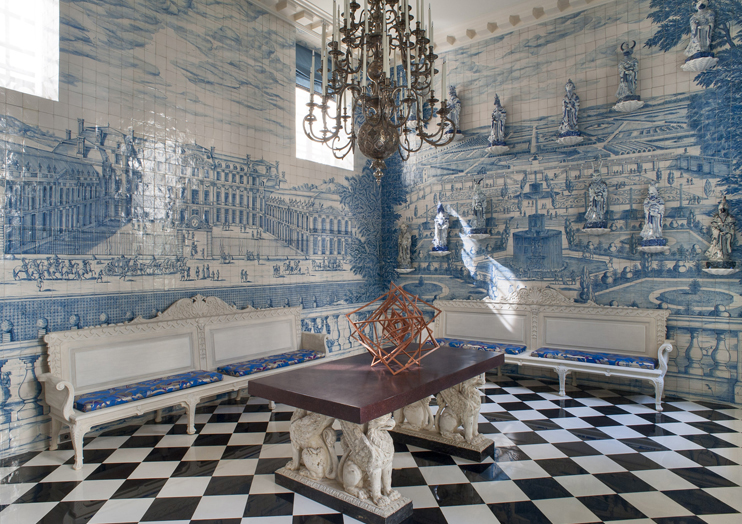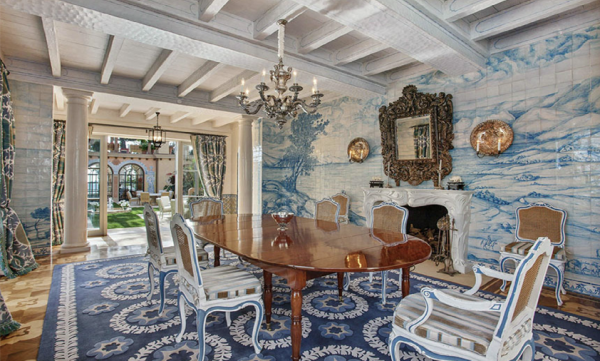 Dans une maison particulière à Pebble Beach, en Californie. Dans la salle à manger, un décor de faience évoque la  Californie du XVIIIe siècle. A droite, une cheminée sur mesure en faïence, au centre, des colonnes  doriques  émaillées, au fond dans le jardin autour des arcades, un décor de terre cuite et de faïence.
Set in a home in Pebble Beach, California.  A ceramic décor in the dining room depicts California in the 18th century.  To the right there is a custom made ceramic fireplace mantel.  In the center glazed Doric columns lead to the adjacent garden with its arcades and terra cotta and ceramic ornamentation.
A Pebble Beach, l'arche qui mène au couloir entièrement décoré de faience a également été revêtue de carreaux pour créer une treille habitées par des oiseaux.
In Pebble Beach, the archway leading to the corridor is entirely decorated in ceramic tile portraying a trellis inhabited by birds.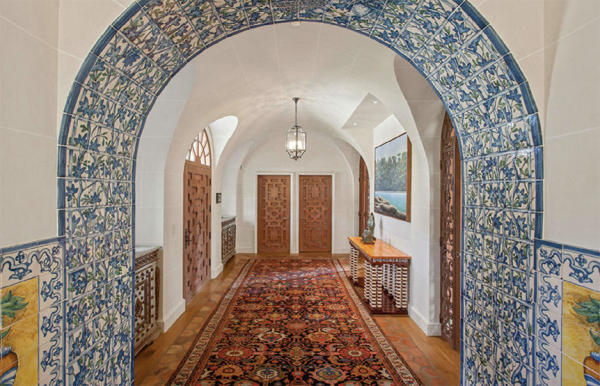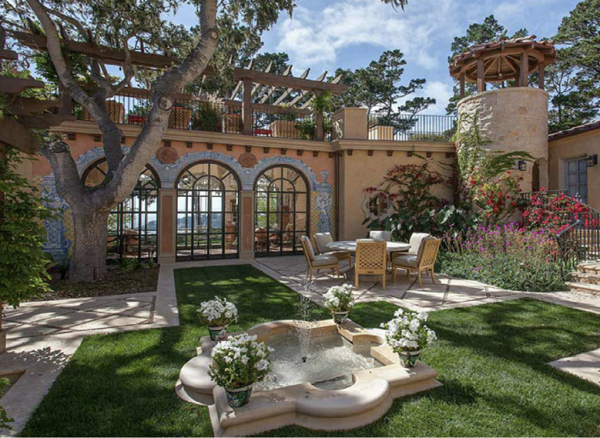 Le patio de Pebble Beach, son décor de faïence, ses pilastres et ses médaillons de terre cuite.
The patio of Pebble Beach with its ceramic décor and terra cotta pillars and medallions. 
Un détail du décor portuguais qui a inspiré les carreaux qui encadrent et soulignent les arcades qui s'ouvrent sur l'océan pacifique.
A close-up of the Portuguese-style decor which inspired the tiles that outline the arcades, literally framing the view of the Pacific Ocean.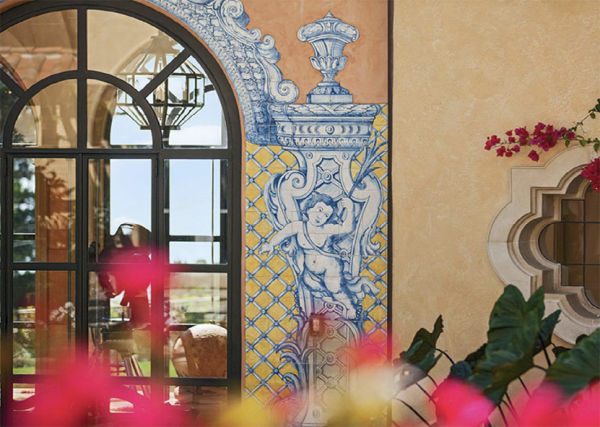 La reproduction d'un décor  hollandais réalisé au portugal au XVIIe siècle. Remis à de justes proportions, il a servi de motif à une crédence de cuisine.
A reproduction of a Dutch scene created in Portugal in the 17thcentury.  Tailored to the right proportions, this piece became part of a kitchen credenza.
Reproduction d'un décor hollandais du XVIIe siècle en deux couleurs, cobalt et manganèse, pour les cuisines d'un château en Champagne.
Reproduction of a Dutch scene from the 17th century in two colors, cobalt and manganese, used in the kitchens of a chateau in the Champagne region.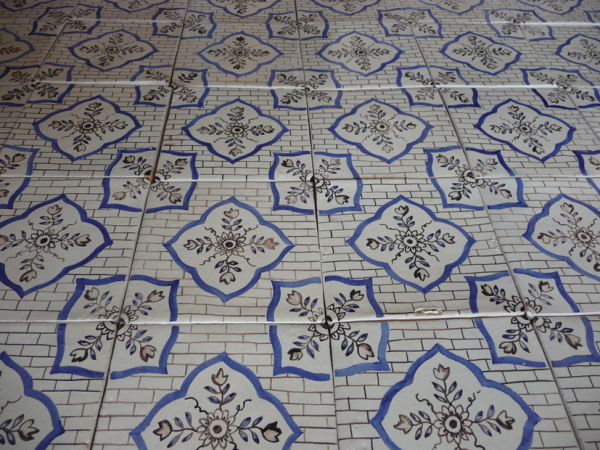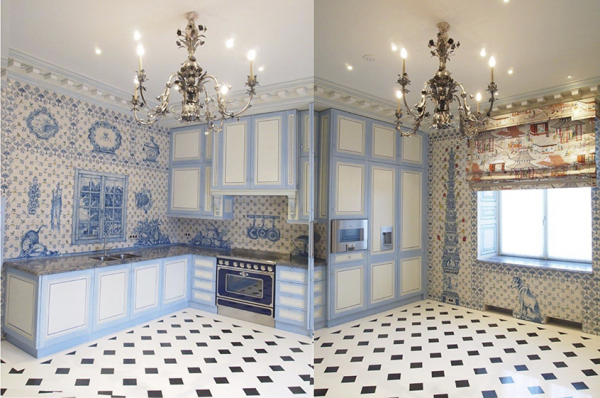 Maison particulière Moscou.
Une cuisine entièrement décorée de bleu et de blanc, d'inspiration hollandaise, qui joue de trompe-l'oeil,  entre carreaux polychromes , collections d'assiettes, tulipieres, animaux,  natures mortes, et percées illusionnistes.
A home in Moscow, Russia
Decorated entirely in blue and white, the Dutch-inspired decor of this kitchen uses trompe-l'œil on the polychromatic tiles, to depict collections of china, tulips, animals, still life and imaginary lattice work.
Reproduction de carreaux de faience languedociens du XVIIe siècle.
Reproduction of 17th century ceramic tiles from the Languedoc region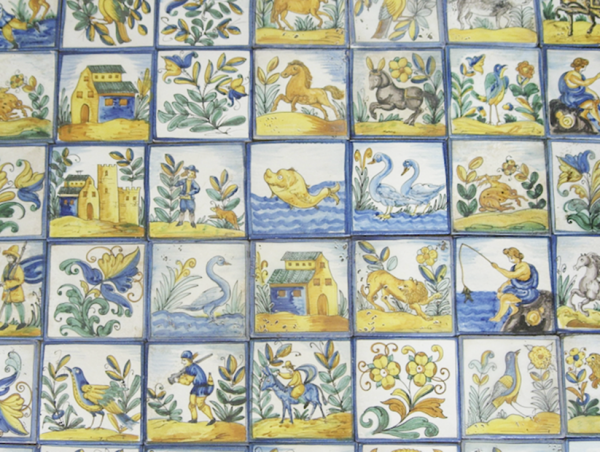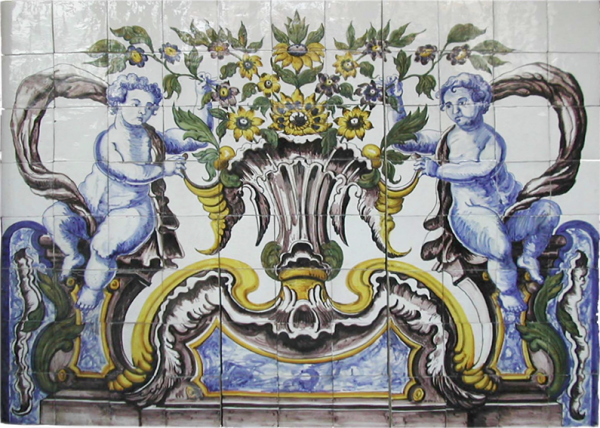 Reproduction d'un décor portugais du XVIIIe siècle.
Reproduction of an 18th century Portuguese decor.
Reproduction d'une chinoiserie hollandaise du XVIIIe siècle.
Reproduction of an 18th century Portuguese decor.